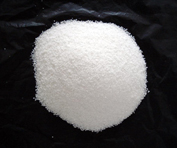 PAM Polyacrylamide
Properties: Polyacrylamide, abbreviation PAM, is a glassy solid, apt to water absorbing; the speed of absorbing water varies with different derivative ions. polyacrylamide is soluble in water and organic solvents as acetic acid, glycol, glycerin and amine. polyacrylamide will dissolve after long time heating. Dissolving temperature is over 120℃. PAM carbonates to black powder at 210℃ without oxygen.
Polyacrylamide could be made to four series, e.g., on-ion polyacrylamide, cationic polyacrylamide, anionic polyacrylamide and mixed cation polyacrylamide & anion polyacrylamide.  
Usages: PAM is an important water-soluble compound with the properties of flocculation, thickening, cut-resisting, block-reducing dispersing, etc. These properties vary with different derivative ions. So it is widely used in the field of oil extraction, mining selection, coat washing, metallurgy, chemical, papermaking, sugar refining, pharmaceutical, environment protection, construction materials and agriculture.
Attention to Storage & Transport: No toxicity itself unless over 5‰ is absorbed that will do harm to stomach. The remains of PAM are poisonous. Strictly control the dose in food. Avoid moisture in storage & transport.
Package: 25Kg/bag(Powder), 25Kg/bag(Colloid), inner bag is PVC film, outer weaved plastic bag.
Technic Index: (Polyacrylamide Powder &Polyacrylamide Powder )
1.
PAM Polyacrylamide Crystals
| | | | |
| --- | --- | --- | --- |
| Items | No-ion PAM | Cation PAM | Anion PAM |
| Appearance | White or light Yellow particle | White or light Yellow particle | White or light Yellow particle |
| Solid content≥% | 90 | 90 | 90 |
| Molecular weight | 800-1000 | 1600-2000 | 300-500 |
| Free substance≤% | 0.5 | 0.5 | 0.5 |
| Time for water-soluble(h) | 1-5 | 0.5-2 | 0.5-1 |
| Hydrolysis rate% | ≤5 | 20-25 | 5-30 |
2.PAM Polyacrylamide Gel
| | | | |
| --- | --- | --- | --- |
| Items | No-ion Polyacrylamide | Cation Polyacrylamide | Anion Polyacrylamide |
| Appearance | White colloid | White colloid | White colloid |
| Solid content≥% | 8-30 | 8-30 | 8-30 |
| Solid content≥% | 200-900 | 300-900 | 200-500 |
| Free substance≤% | 0.5 | 0.5 | 0.5 |
| Hydrolysis rate% | ≤5 | 5-30 | 5-30 |