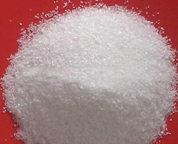 CPAM Cationic Polyacrylamide
Introduction: Cationic polymer flocculant is a water soluble linear polymer, and its molecular weight is between 400-1200million. CPAM also can be dissolved in methanol and ethanol, but can not be dissolved in ketene, esters, hydrocarbons and other organic solvents. Cationic PAM CPF showed electropositive in acidic or alkaline medium, thus it is effective in the treatment of coagulation and sedimentation with the suspended particles in the negatively charged sewage water. Such as the production of grain alcohol wastewater, papermaking wastewater, wastewater of urban sewage treatment plants, beer-production wastewater, wastewater of monosodium glutamate factory, sugar-production wastewater, high content of organic wastewater, beverages-production wastewater, and printing and dyeing wastewater. In addition, cationic CPF also can be used as chemicals in oilfield, such as clay anti-swelling chemicals and thickening chemicals used in oilfield acidification, as well as enhancer chemicals used in papermaking.
Cationic polyacrylamide is copolymerized by the cationic monomer (DM, DMC, DMDAAC, and DMAEMA) and acrylamide, after granulation, drying and crushing, it appears as a small white powder or small particles.

CPAM Specification:
| | | | | | | |
| --- | --- | --- | --- | --- | --- | --- |
| Model | Molecular Weight (10000) | Ion Degrees% | Solubility H | Solid Content% | PH Effective Scope | Appearance |
| PAM-CKG-1 | 200-1300 | 50 | < 2 | ≥90 | 1-14 | White powder |
| PAM-CKG-2 | 300-1300 | 40 | < 2 | ≥90 | 1-14 | White powder |
| PAM-CKG-3 | 300-1300 | 30 | < 2 | ≥90 | 1-14 | White powder |
| PAM-CKG-4 | 400-1300 | 20 | < 2 | ≥90 | 1-14 | White powder |
| PAM-CKG-5 | 600-1400 | 10 | < 3 | ≥90 | 1-14 | White powder |